Santa's Sleigh finally lands in Merimbula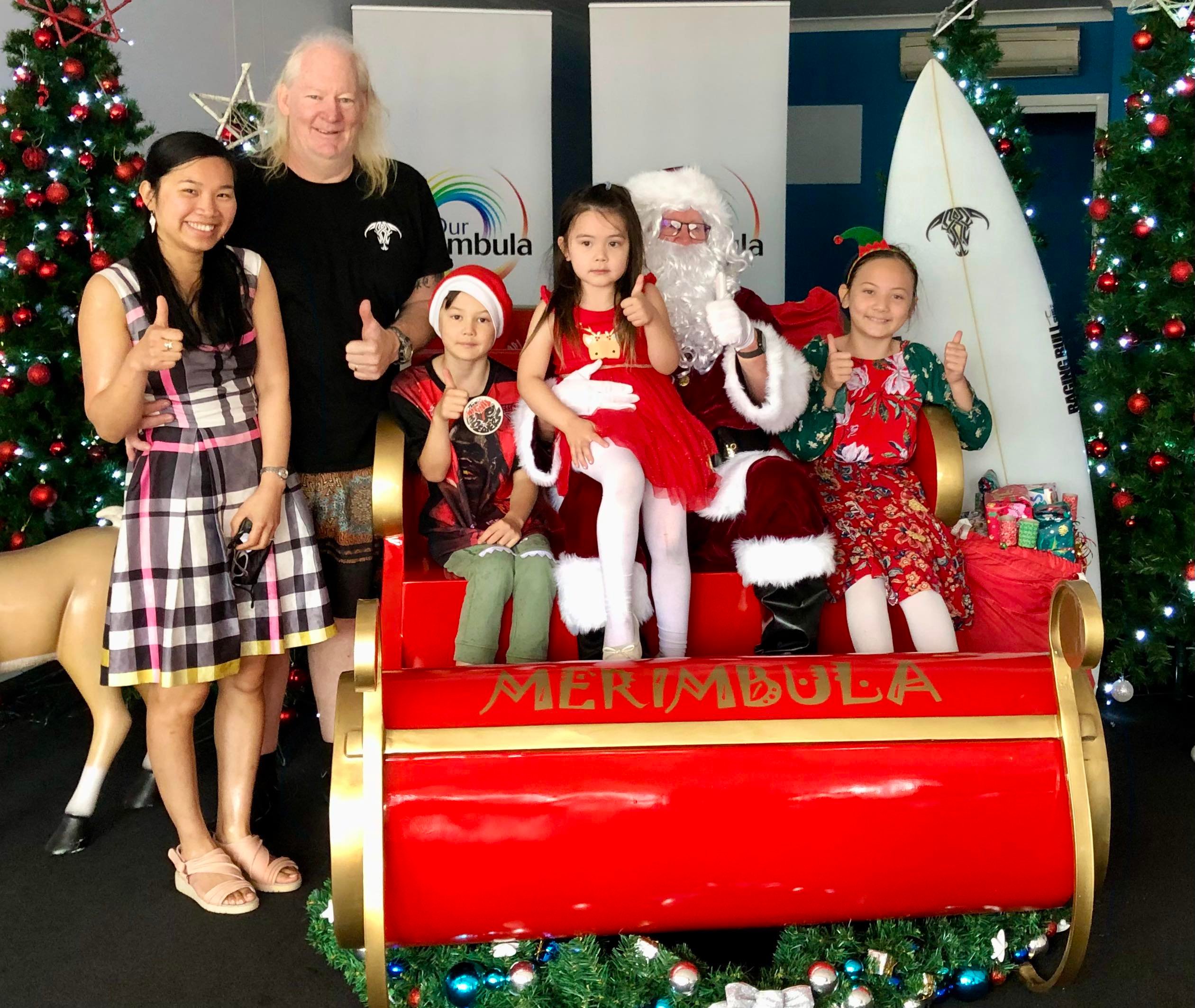 It has been a long journey for Santa's sleigh, but it finally made it to Merimbula.
The journey started in 2020 when Gary Purser from Ranging Bull Surf organised for it to be made and donated it to the Merimbula Chamber of Commerce. Unfortunately, due to shipping issues it arrived too late for Christmas last year, but it found its way to the East Coast Express (formerly DJ Cool freight) warehouse in Pambula where it sat for most of the year.
In November, the team from Merimbula Sand & Gravel picked it up and stored for a few weeks before bringing it into town where Merimbula RSL stepped in and provided a forklift to unload it and help find its new home.
Local landlords, Simon and John who own the Old Summerland Travel building agreed to let the sleigh be placed in the empty shop so that locals and visitors could enjoy some Christmas spirit.
That's when the Chambers elves (committee members) jumped in and started turning the space in to Santa's Workshop, a festive space designed to create some Christmas joy. The elves worked frantically to get the workshop decorated for the Christmas Shopping Day on Saturday 11th when Santa arrived on the back of a fire truck thanks to Merimbula RFS. Whilst we can't give too much away about Santa, we believe he's quite friendly with a local Merimbula GP.
Children and families queuing to see Santa were serenaded by the Sapphire Coast Concert Band, who were located in the old Amelda's shop that was generously provided by the Twford.
Kristy Martin from the Chamber said. "It was an amazing effort by a whole team of businesses and people that made it possible, and it just goes to show what a fantastic community we have in Merimbula. Everyone pitched in to help and it was great to see the smiles on kids faces with Santa on Saturday."
Kelly Maher who is also from the Chamber and was responsible for organising much of the Christmas decorations, said, "A lot of people made contributions to the efforts this year and it was great to see it all come together. Pete O'Keefe and his team did a great job putting up all the garlands across the shop fronts around town, and Tye Martin from Sapphire Coast Electrical did an amazing job putting the Giant Christmas tree up again which was donated previously by Merimbula Special Events Committee. Ally from Nosh provided some delicious food for the Chamber Christmas party and now we are all ready for the visitors to come to town."
Santa's workshop will be open from 11am-1pm again this Saturday 18th and then again from Monday 20th until Friday 24 December daily. Whilst Santa can't be there (as he is too busy) children and families can sit in the sleigh and take their own photos. The Chamber just asks everyone to respect the space and if they post their photos online to include @ourmerimbula and #merrymerimbula in their posts. The workshop is located at Shop 16, Merimbula Plaza, opposite the pedestrian traffic lights in the middle of town.
Anyone who would like to make a donation to the Christmas decorations can do so via the Chamber website.
https://ourmerimbula.tidyhq.com/public/shop/products/members-christmas-package